Love this one.
Note the white jacketed regular component.
http://i82.servimg.com/u/f82/12/22/09/10/083_0010.jpg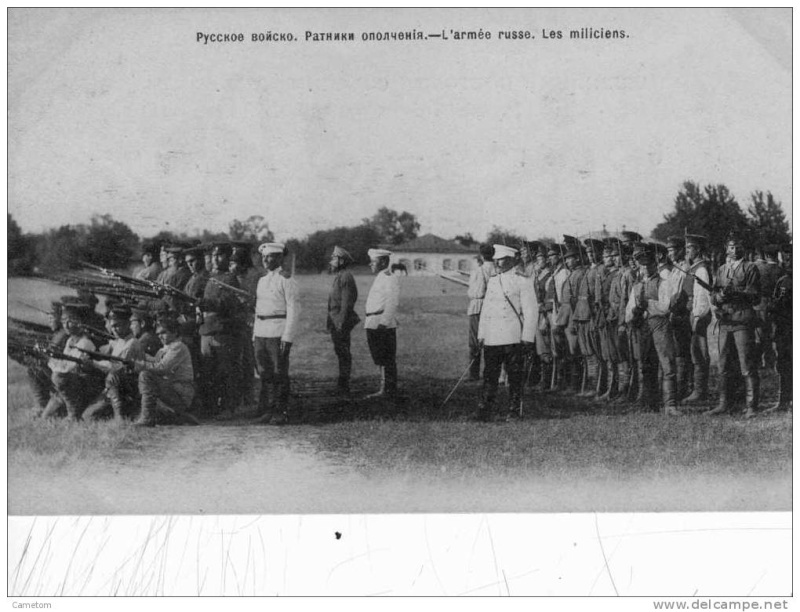 Posts

: 1129


Join date

: 2008-04-03



Yes the white gimnasterka (blouse) worn by other ranks of the Tsar's army for summer wear from about 1870 did manage to be both comfortable and smart. Basically it was a shirt - worn outside the trousers in Russian peasant style, but smartened up with the coloured shoulder straps of the standard dark green uniform. For line infantry the latter were either red or blue depending on whether a regiment belonged to the first or second brigade of its division. Officers wore more conventional white tunics in summer, as shown in the sword carrying figure on the right of Sean's photograph.

For all its virtues the gimnasterka was too conspicuous for modern war and in the early stages of the Russo-Japanese War of 1905 units ordered to the front usually dyed them various shades of khaki before arrival. The white garments survived in peace time garrisons until 1908-10 when they were replaced by a khaki-grey version. The Tsarist police however continued to wear white for summer wear until the Revolution. Rather surprisingly the new Soviet police ("militisia") readopted the white blouses and wore them until the 1950s. I worked in Moscow at the end of the Soviet era and the unloved "milies" still wore a shorter version of the white gimnasterka (still outside the trousers) on public holidays during summer. All of which may not be of much interest but still .....



Posts

: 344


Join date

: 2008-05-21



I would guess that that photo's from around 1905-1910, judging from most of the men wearing what appears to be khaki and some of them wearing what looks like a mix of old colored and newer khaki uniforms.



Posts

: 190


Join date

: 2008-04-09



Maybe not quite in line with the tread but here are some of the changes made in 1917 to the navy ranks just after the Tsar was overthrown.
Below which I have attempted the pre revolution shoulder boards.
Admiral: Three five pointed stars above one ¾inch with curl above two 1 inch.
Vice Admiral: As admiral but only two stars.
Rear Admiral: Stripes as for admiral with one star.
Captain: Three ¾inch stripes, top one with curl.
Commander: Two ¾inch stripes, top one with curl.
Lt Commander: One ¾inch stripe with curl above three ¼inch strips.
Lieutenant: One ¾inch strip with curl above two ¼inch stripes.
Sub Lieutenant: One ¾inch stripe with curl above one ¼inch stripe.
Gold for flag officers, executive officer, engineer officers and hydrographers, engineer and executive officers have no distinction between them.
Silver for Law, surgeons and constructors,
Backing colours are constructors red, law mauve, hydrographers blue and surgeons white,
Pre 1917 the navy boards were slightly more complex that the new 1917 strip,
For example the Admiral of the Fleet would have the Royal Cypher along with certain staff officers.
The chart is fairly basic and only a rough representation.
I have shown some examples of the narrow shoulder boards worn by the non executive officers without listing their grade or colour, this omission is due to a basic lack of knowledge and a total lack of quality English Illustrations.
I was going to do an army chart but I choose the easier option of the navy, my graphic's aren't really up to all those army badges.
Regards
WF
Here's what I believe to be the Russian army ranks until it's reorganisation during 1918/19.
I don't think that there were many changes during the first year and the main change was for the removal of royal devices for field marshal and generals, all the other ranks changed little until the diamonds and squares of the Communist army.
Warrant Officer ranks [here called Adjutant] changed slightly also from the centre braid to braid on edge of the straps.
Rank insignia previously for sergeant major here is shown for adjutant,
The previous rank for sergeant, three bars here is sergeant major, two bars previously for corporal are now sergeant and the single bar has change from lance corporal to corporal with no lance corporal,
I didn't have much information to go on, sorry if there's any major blunders.
Regards
WF
I think these just about come under early 20th century.
The Soviet army's early ranks don't really translate into modern equivalents, what would be corporal for example would be a section leader and so on up to general of army.
In the 1920's another level of ranks was added making them more in line with the rest of Europe.
Translating the ranks from the original Russian would have only resulted in many a laugh to accompany the many mistakes.
Regards
WF
The description from the webpage of Front of Russia who have given permission for me to post it on the forum.
http://www.frontofrussia.com/army.html
Civil War 1918-23 Imp.Russian repro Kornilov set. LOOK! The highest quality theater repro! All items are made in accordance to the original measurements on the basis of natural military materials. Such uniforms were worn by the privates of Imperial Tzarist White Volunteer Army (Kornilov division) units.
Also a M1919 Revolutionary Red Army private's gimnasterka.
---
Permissions in this forum:
You
cannot
reply to topics in this forum